Hotels in Dali
Our top picks
Lowest price first
Nearest to
Best reviewed
Fast facts about Dali, China
| | |
| --- | --- |
| Accommodations | 3,389 properties |
| Popular hotel | Hotel Indigo Dali Erhai |
| Popular area | Dali City |
| Nightly rates from | $6 |
| Airport | Dali Airport |
4-star hotels in Dali
---
The staff are friendly and helpful. The hotel is clean and nice. It's not easy to find the hotel, but can't blame to the taxi driver cause there are bunch of similar hotel in the city. This is one of the best of the similar rate hotel in Dali. Call them to arrange transport (reasonable charges) for pick up a day before check in.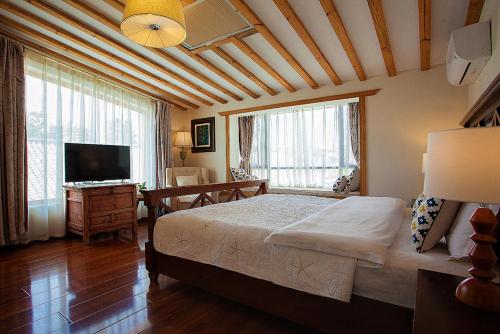 ---
Had a great room ... could see the mountains as well as the East Gate. Room design very nice. Bed comfortable. Lots of hot water ... great after a day of touring. Service excellent and flexible. Responsive with giving tourist guidance, ordering car service, assisting with errands, learning about China, Dali, etc. Whatever we asked about and needed, we received ex...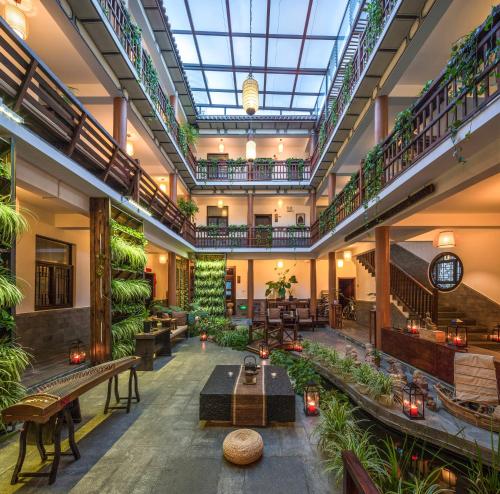 ---
I spent weekend in Dali with few colleagues. We booked 2 rooms. Hotel ambience is perfect, homey with nice mini garden and tea table. Room is clean and complete. Location is strategic: 5 min walk to Dali Ancient Town West Gate and close to Mountain. Easy to find food, water, etc nearby. The best of all is the hospitality from the owner and hotel manager. They let us ch...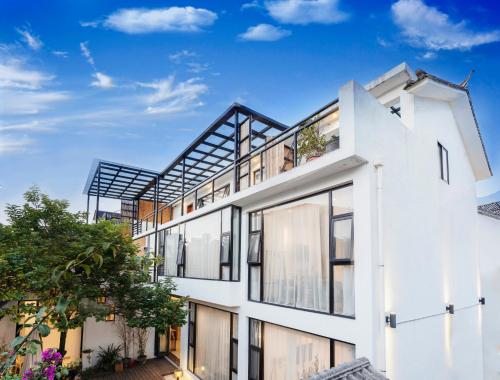 ---
This boutique hotel is absolutely fabulous! Although it was a bit hard to drag our bags there as the road is under heavy construction (pack light and perhaps use big backpack instead of rolly suitcase) after arriving everything went fantastic. It's a super adorable hotel with really cool decor and the room looks just like the pics from agoda (awesome shower and comfy b...
---
What a nice surprise. I have stayed in Dali several times prior and stayed in old traditional courtyard type hotels with no insulation or heat. Last minute trip this time in January and worried about the cold. This hotel reminds me of Residence Inn type of concept where the small buildings are spread around the hotel campus. Each building has several rooms and two ...
---
Very friendly and helpful family run hotel, just outside the Erhai (east) gate of old Dali town. A number of friendly pets, both cats and a dog, in residence as well. Nothing fancy but good value.
---
Our hosts were exceptional. Our expectations were constantly surpassed. Plus the facilities were totally charming. 11 out of 10!!!
---
Good place to stay, but my outdoor hot tub was broken and if you get the room with the swing bed it could be awkward. Ask for the other rooms.
---
Nice and clean boutique hotel . Decor is very arty and blends in very well with the surrounding old houses. Hotel staff is very helpful and accommodating . It will be excellent if the staff is conversant in English. However, we could still converse with my basic Chinese and his basic grasp of English. Rooms in upper floors have no lifts to assist. Our Chinese drive...
---
Luxury hotels in Dali
---
The personalized service is excellent. Many good stuff have been said about the service here and the attentiveness of the boss and his staff. Words doesn't do justice to the attentiveness and friendliness in this place. We've staying in many 6-star hotels in Yunnan, and none of them come close. Xizhou is made extra special because of Linden Centre. One thing to note...
---
This is a boutique hotel with modern facilities in beautifully restored traditional surroundings. There might not be all the facilities you'd find in similarly priced hotels elsewhere, but staying here is a memorable experience. We stayed in a large (family-size) second-floor room. Apart from the Chinese-American manager, who is not present all the time, the staff's E...
---
I really enjoyed my stay here!! There were five if us that stayed - three guys in one room, and two girls in the other. Absolutely impressed by my stay at the hotel, so much so that my view of Dali is at its best Location: Very handy. At the bottom of one of the main centers with shops, bars, supermarket etc nearby. Also not far from many sightseeing attractions for a...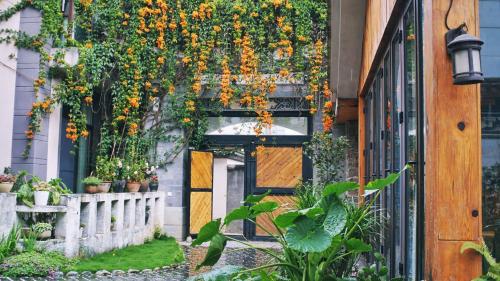 ---
I did not notice that Agoda does not collect the fees on this property and that it is due on arrival in cash.
---
This hotel is beautiful and as we flew into Dali we expected to catch a taxi but there was a limousine service there to take us to the hotel (they did not know our arrival time). Rooms are large, breakfast excellent, lake view sensational. We shall stay there again. Not many staff speak English but everyone very friendly and helpful.
---
- Lake view is nice, staff service is great - friendly and very helpful - Part of the hotel chain called "Travelling With", and offers packages for various city tours - Have to cab to get to town (10-minute)/rent scooter, otherwise there is a main street with supermarkets/food around 10 minutes of walk away - Sound/noise from hallways may interfere, between rooms is fi...
Christopher
, Hong Kong SAR, China
---
Give this area another 2 years. Food can be improved. Staffs are generally helpful and friendly.
---
Dali hotels with breakfast
---
Frequently asked questions
What's the typical price of a hotel in Dali tonight?
The average price for a 3-star resorts in Dali this evening is USD 76. The typical price for a 4-star property in Dali tonight is USD 68. The average price for a 5-star resort in Dali tonight is USD 152.
What are the best properties in Dali for two guests?
Properties in Dali that are widely rated by couples include China Old Story Inns Dali Ancient Town, Dali Mengyuanju Boutique Inn and Hilton Dali Resort and Spa.
What are the top resorts in Dali for families?
Properties in Dali that are significantly rated by families include China Old Story Inns Dali Ancient Town, Dali Mengyuanju Boutique Inn and Hilton Dali Resort and Spa.
What places to stay located in Dali are very highly rated regarding facilities?
Propertieslocated in Dali which is very highly rated for amenities include Shaxi Aoding Courtyard, Forget me not hotel and Dali Cindura-Di Hotel.
What are the ideal hotels found in Dali that has free parking?
Hotels with complimentary parking located in Dali that are exceptionally rated include 大理甲科第文化民宿 and 大理甲科第文化民宿.
What are the most suitable places to stay found in Dali with bars?
Properties which have bars around Dali that are exceptionally rated include 大理甲科第文化民宿 and 大理甲科第文化民宿.
Where can I find rooms in Dali which has free cancellation policy?
Yes, you'll find most hotel rooms offer free cancellation rates, with which you can expect to receive a full refund if you cancel prior to the deadline. Filter your search by free cancellation to find flexible hotel deals in Dali.
When should I travel to Dali?
Last year, Dali gained its most visitors during the month of April. However, you may want to consider other months during which there are a fewer amount of vacationers, as the most popular points of interest will be less crowded.
How long should I book my stay in Dali?
In the past 3 months, travelers plan their stay in Dali for 1 nights on average. The right length for your visit will depend on what you'd be interested to see and explore while there.
Is covid test upon arrival expected for fully vaccinated tourists to enter Dali?
COVID-19 test may be required on arrival when entering Dali from outside the country. For up-to-date and detailed information on travel restrictons, remember to have a look at the official websites of the travel authority or government of the country you hope to visit, or go to here.
Explore more travel vacation rentals
More about Dali
Dali is a enduring destination for nature and outdoor tourism. Visitors from across the world flock to Dali to try anything this location can offer, such as outstanding resort hotels in Dali, hotels near lakes in Dali, and mountain view hotels in Dali. Travelers take full opportunity to consider the wide selection of hotel golf clubs in Dali, Dali center aquarium hotel packages, Dali downtown accommodation, golf view hotels in Dali, and high-rise hotels with views in Dali in the vicinity of some great nature areas. Cuisine that can be found with the restaurants and bars in Dali consists of options for all types of tastes. Favored nature areas in Dali include Butterfly Spring Park, Erhai Lake, and Cangshan Mountain, which in totality give a range of wildlife and camping experiences and nature-based evening activities. Room alternatives in Dali range between inexpensive capsules in Dali to higher-end 5-star luxury hotels close to zoos in Dali. It's also possible to plus more for tourists of most tastes and budgets. Don't forget-- individual-unit getaway rentals in Daliare usually readily available for travelers with more particular hotel preferences, for example multi-bedroom units near aquariums, large balconies with city views, or concierge assistance to allow you to discover the most outstanding outdoor activities available on golf courses in Dali. The top hotels near nature in Dali give all convenient access by public transport to Butterfly Spring Park, as well as restaurant choices with open-air selections as well. You may also book top-rated accommodations close to Erhai Lake, or practical properties near Cangshan Mountain. The structure of Dali is specifically ideal for forest hotels near Dali, going for walks from your hotel near parks, or lodging in the vicinity of the best quality nature tour offerings in Dali.

Dali is an exceptional choice for art, culture, and history travel and leisure. Visitors from around the world go to Dali to experience anything and everything this area has to offer, notably excellent attractions in Dali, monument hotels in Dali, and famous historic hotels in Dali. Those coming in pre-book the variety of hotels near monuments in Dali, Dali center hotels near monuments, Dali downtown accommodation, historical hotels in Dali, and high-rise hotels with views in Dali close to the best historical areas. Dining which is feasible at the eateries and bars in Dali consists of flavors for all types of preferences. The most traveled to cultural regions in Dali consist of Chongsheng Three Pagodas, Dali Gucheng - the Old City, and Yunnan Shaxi Ancient Town, which together produce a variety of sightseeing experiences and art-based night-time activities. Accommodation and room alternatives in Dali range from low-priced capsules in Dali to top end 5-star luxury hotels near galleries and monuments in Dali. Additionally, you can find great serviced suites in Dali, hostels in Dali, and much more for vacationers of all tastes and budgets. Notably, single-unit trip rentals in Dali are almost always readily available for travelers and tourists who have more esoteric hotel preferences, for instance multiple-bedroom units near monuments, spacious terraces with city views, or concierge services to help enjoy the ideal cultural experiences at historical zones in Dali. Top-rated accommodation near museums in Dali give you fast access by means of public transport to Chongsheng Three Pagodas, as well as dining options with outdoor choices options also. You may also seek top places to stay around Dali Gucheng - the Old City, or comfortable places to stay close to Yunnan Shaxi Ancient Town. The structure and roadways of Dali are particularly excellent for museum hotels near Dali, or taking walks from your accommodation to museums, or hotels near the best museum tour services in Dali.

Dali is a popular choice for vacationers searching for urban exploration and shopping. Tourists from across the world check out Dali to try just about everything this locale provides, including malls, shopping centers, and markets. Visitors make use of the great deal of city traveler's hotels in Dali, Dali center hotels, Dali downtown accommodation, market hotels in Dali, and high-rise hotels in Dali close to the best shopping areas--plus the cafes and Dali eateries that serve regional specialties and various favorites. Cuisine in Dali includes selections for a myriad of preferences. The ideal shopping centers in Dali include Dali Foreigner Street, Shibaoshan Town, and Xihu Scenic Resort, which combined provide you with a variety of shopping experiences and urban activities. Lodging choices in Dali cover all bases from economical capsules in Dali to higher-end 5-star luxurious hotels near shopping areas in Dali. It's also possible to come across superb serviced suites in Dali, hostels in Dali, and many more for travelers of all preferences and budgets. Furthermore, individual-unit getaway rentals might be opportunities for guests who have extra exact lodging needs, including multi-bedroom units, spacious terraces with city views, balconies with city views, or concierge support to allow you to discover the right shopping activities. The top hotels close to market centers in Dali give you easy access using public transport to Dali Foreigner Street, as well as restaurant choices with luxurious setting also. Additionally, you can discover top properties nearby Shibaoshan Town, or suitable accommodations near Xihu Scenic Resort. The map of Dali is incredibly pleasant regarding urban shopping experiences, or simply just browsing the shopping malls close to hotel zone in Dali.